This article or section is a stub. You can help the One Tree Hill Wiki by expanding it.

The baptism of Davis and Jude Baker occurred at Tree Hill's church and involved only the immediate family of the Baker twins and their godmother, Haley James Scott.
Ceremony
Location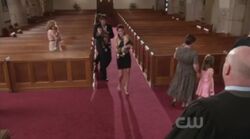 The ceremony took place in the local church after another baptism. The church wasn't decorated especially for the occasion, as the walls of the church were bare, though it was decorated with white roses. The church was also the site of the wedding of the boys' parents.
Outfits
Christening gowns
Christening gowns were created by Davis and Jude's mother, Brooke Davis. The twins were clothed differently.
Davis
Davis had a shirt pink and a black jacket with a brown pants.
Jude
Jude had a brown jacket and a grey shirt and stripped pants.
Godparents
Godmother
The twins' godmother is Haley James Scott, the best friend of their mother, Brooke Davis. She was happy to be the godmother and held Davis during the baptism ceremony. She dressed by a spring slight pink dress.
Godfather
The twins' godfather is their maternal grandfather, Robert "Ted" Davis, Jr. Despite arriving late for the ceremony, he did make an appearance (having been absent during his daughter's wedding). Ted seemed generally happy to see his daughter and to meet his grandsons, but did not enjoy seeing his wife, Victoria.
Guests
Those in attendance to Davis and Jude's baptism and their relation:
Absent guests
Uninvited guests