Appearances
S1
,
S2
,
S3
,
S4
,
S5
,
S6
,
S7
,
S8
,
S9
Clara was the fan-given name for the relationship between Clay and Sara Evans. Clay and Sara meet a college and began are relationship after during a dare they jumped together into a river and kissed. This started a quick and loving relationship. Following college they quickly moved in together and got engaged after Sara proposed. Throughout their relationship Sara supported Clay's job making sure he only did what he wanted. But it was ended by Sara's untimely death leaving Clay devastated and vowing to never love again. But with the help of Sara's spirit he was able to move on and find more love.
Timeline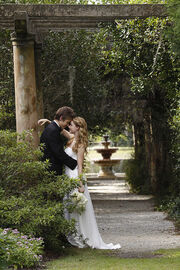 Season 7
Season 8
Season 9
Memorable Episodes
Trivia
Ad blocker interference detected!
Wikia is a free-to-use site that makes money from advertising. We have a modified experience for viewers using ad blockers

Wikia is not accessible if you've made further modifications. Remove the custom ad blocker rule(s) and the page will load as expected.