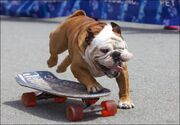 Dogust Kellerman was the beloved skateboarding pet dog of August Kellerman.
On the night of Brooke's bachelorette party the girls go to August's house and vandalize it before kidnapping Dogust.
After venturing around trying to remember most of the night, they realize that they had stolen August Kellerman's dog.
Later Haley bribes Nathan into returning Dogust with Nathan telling Kellerman no questions as that is what his kidnapped dog poster stated.
Dogust was last seen accompanying his owner during his sailing voyage around the world following his retirement from teaching. 
Trivia
Ad blocker interference detected!
Wikia is a free-to-use site that makes money from advertising. We have a modified experience for viewers using ad blockers

Wikia is not accessible if you've made further modifications. Remove the custom ad blocker rule(s) and the page will load as expected.