This article or section is a stub. You can help the One Tree Hill Wiki by expanding it.
Focus was the photo gallery and studio of photographer Quinn James. Focus was opened after Quinn was prompted by her dying mother to have her own gallery.
History
Season 7
To support her daughter's vocation in photography, Lydia James prompted Quinn James to purchase her own gallery and studio. In order to do so, Lydia praised a local for six months and Quinn began to prepare her gallery studio for a public opening.
Gallery and studio
Decoration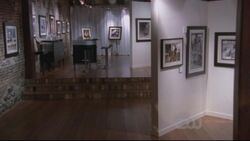 The gallery room featured dark wooden floors and walls in brick and rough stones. There also had large white panels in angles that resembled walls where some photos could be displayed. The gallery also featured a slightly more elevated back room, with three steps leading to a black bar. During the gallery's opening gala in season seven, Alexander Coyne and Victoria Davis are caught in the act of sexual relations in this back room.
Notable works
Opening gala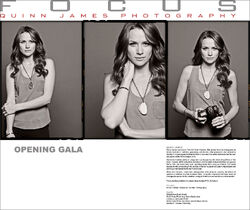 To celebrate the opening of her gallery and studio Quinn and Clay (her partner) organized a party where people can see and possibly buy her photos. The inauguration passed well since Victoria Davis and Alexander were discovered in the back-show, which, according to Haley, has tempered the party.
Guests
Opening photos
| | | | |
| --- | --- | --- | --- |
| Title | Photo | Trivia | Bought by |
| Sisters | | Equipment: Nikon D700; Nikon 18-150 mm, f3.-4.5 USM | Haley James Scott |
| Laughter | | The photo has pushed Julian Baker to help Alex Dupre | |
| Clay Evans | | Photo of Quinn's partner | Katie Ryan |
Trivia
Quinn's first buyer was her younger sister, Haley James Scott, who purchased the photo titled Sisters.
Ad blocker interference detected!
Wikia is a free-to-use site that makes money from advertising. We have a modified experience for viewers using ad blockers

Wikia is not accessible if you've made further modifications. Remove the custom ad blocker rule(s) and the page will load as expected.