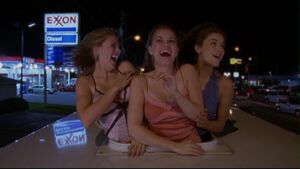 The following is a full listing of the cast for the episode "Near Wild Heaven".
Credited
Starring
Guest Starring
Matthew Laurance as Doctor
Sara Edwards as Theresa
Amanda Baker as Charlotte
Tenia Taylor as Tenia
Brian Gregorie as Driver
Nicky Buggs as Officer Bernstein
Grace Juno as Officer Grasso
Erich Campbell as Mechanic
David Sherrill as Strip Club Owner
Slyvia Jefferies as Instructor
Also Starring
Ad blocker interference detected!
Wikia is a free-to-use site that makes money from advertising. We have a modified experience for viewers using ad blockers

Wikia is not accessible if you've made further modifications. Remove the custom ad blocker rule(s) and the page will load as expected.