Home
Talk

9
726pages on
this wiki
New To The Wiki

Get involved in Sign up.
See the Help pages for assistance on what to do next.
Check out the Manual of Style for help with your editing.
Contact your admins if you get stuck
Welcome to One Tree Hill Wiki, and happy editing

One Tree Hill is a teen/young adult drama series created by Mark Schwahn. The series premiered on September 23, 2004 on the WB Network and then aired on the CW. The long-running series ended in its ninth season in April 4, 2012.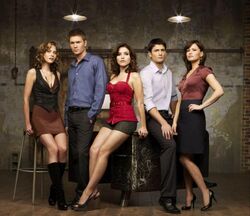 The series chronicled the lives of five high school friends, living in Tree Hill, whose lives collided when Lucas Scott joined his half-brother Nathan's high school basketball team. The initial animosity between the brothers, fueled by the influence of their often regretful parents, sparked a major confrontation which became thrice as fierce when three beautiful girls became further entwined in the brothers' lives. Lucas' best friend Haley James tested her loyalties and slowly started to fall for Nathan after breaking through his bad-boy persona; Peyton Sawyer struggled to choose between her head and her heart when it came to Lucas - even more so when her best friend, party-girl Brooke Davis, finally removed her facade and truly fell for the one-time outsider. All the lives of the five teenagers, and their friends, collided and drama was certain to follow.

After Season 6, Peyton and Lucas depart Tree Hill and two new regular characters are introduced: Haley's sister Quinn and Nathan's agent Clay.  Quinn and Clay's relationship develops after the death of Clay's wife Sarah. Brooke hires actress Alex, to be the face of her company, who initially causes conflict between Brooke and Julian.
Throughout the nine seasons of One Tree Hill, audiences have been shocked and astounded as they dealt with their high school dramas, and later, faced the pressures of living adult lives.
Click here for a full list of characters and cast.