This article or section is a stub. You can help the One Tree Hill Wiki by expanding it.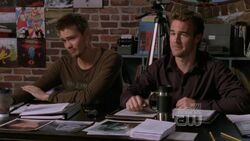 The following is a full listing of the cast for the episode "Screenwriter's Blues".
Credited
Starring
Guest Starring
Susan Walters as Principal Rimkus
Cassandra Jean as Missy
Burgess Jenkins as Bobby Irons
William Yelton as Boy
Chad Graves as A.D. Chad
Peggy Sheffield as Doctor
Susie Abromeit as Susie
Also Starring
Ad blocker interference detected!
Wikia is a free-to-use site that makes money from advertising. We have a modified experience for viewers using ad blockers

Wikia is not accessible if you've made further modifications. Remove the custom ad blocker rule(s) and the page will load as expected.