This article or section is a stub. You can help the One Tree Hill Wiki by expanding it.
Name
Seven Dreams Til Tuesday

Seven Dreams 'Til Tuesday is the film produced and directed by Julian Baker and written by and starring Alex Dupre.
History
Genese
The script was written by Alex Dupre with the assistance of Julian Baker. Alex initially gave Julian the script believing it to be something new and exciting but Julian disagreed, telling her the writing needed more focus but the script had potential. The film was, at its heart, a love story described by Brooke Davis to be "epic".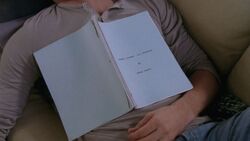 After working together for weeks, often in Brooke and Julian's home, Alex and Julian finished the script and were left hoping that it would find it's footing in the movie industry and they both believed it would, with Julian even asking his father Paul Norris to produce the film with him. However, when Paul discovered that Alex was attached to the film, he deemed it as not fit to be produced. In order to stop her from hearing the truth, Julian told her that that because of Seven Dreams Til Tuesday's similarity to many other films released at the same time, Alex's efforts went to waste as the film didn't receive any interest to be produced.
Julian then receives a voicmail from Alex that had him concerned enough to go check on her against Brooke's wishes, only to discover her attempted suicide, & he rushes her to the hospital. As soon as alex wakes up in the hospital, Julian tells her the good news and reveales that someone was interested in financing the movie(which happens to be Julian & his father, paul) & they would be working on the movie together once she was out of the hospital.
Filming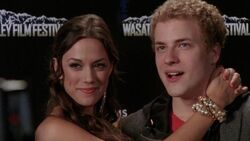 The film was produced and directed by Julian with Alex starring in the lead female role alongside Josh Avery with costume design by Brooke Davis. Many problems supervened on the film set as when Brooke hit Alex because she beleived that Alex and Julian were lovers.
The film found success despite a sex tape involving Alex and Josh was leaked in the film festivals as well as commercially. The movie was critical and commercial success.
Staff
Cast