This article or section is a stub. You can help the One Tree Hill Wiki by expanding it.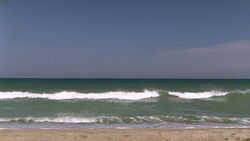 Tree Hill Beach
was a beach located on the front of
Tree Hill
. The beach is a central place for the residents of Tree Hill. The beach was the place in which
Brooke Davis
began the start of her senior year. It is also the place where
Dan Scott
attempted to kill himself and
Quinn James
conquered her fear of water, with
Clayton Evans
.
History
Season 1
Season 2
Season 3
Season 4
Season 5
Season 6
Season 7
Season 8
Season 9
Influence in Couples
Images
Trivia
Ad blocker interference detected!
Wikia is a free-to-use site that makes money from advertising. We have a modified experience for viewers using ad blockers

Wikia is not accessible if you've made further modifications. Remove the custom ad blocker rule(s) and the page will load as expected.