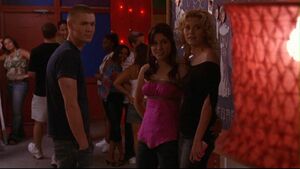 The following is a full listing of the cast for the episode "Truth Doesn't Make a Noise".
Credited
Starring
Guest Starring
Huey Lewis as Jimmy James
Jeffery West as Doctor
Brad Carlson as Really Cute Guy
Wayne Adams as Amazingly Cute Guy
Also Starring
Ad blocker interference detected!
Wikia is a free-to-use site that makes money from advertising. We have a modified experience for viewers using ad blockers

Wikia is not accessible if you've made further modifications. Remove the custom ad blocker rule(s) and the page will load as expected.