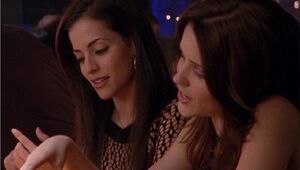 The following is a full listing of the cast for the episode "What Is and What Should Never Be".
Credited
Starring
Guest Starring
Blake Bashoff as Gary
Richard Bryant as Stoner #1
Drake Johnson as Party Kid
Bobby Tyson as Cop
Adam Heffernan as College Guy
Dean James as Bartender
Dan Cox as Customer
Jennifer Owens as Cop #2
Leigh Jones as Popular Girl
Ryan Kowalske as Stoner #2
Mike Pniewski as Mr. Carlson
Also Starring
Ad blocker interference detected!
Wikia is a free-to-use site that makes money from advertising. We have a modified experience for viewers using ad blockers

Wikia is not accessible if you've made further modifications. Remove the custom ad blocker rule(s) and the page will load as expected.